Bouncy Soft Rubber Pineapple Ball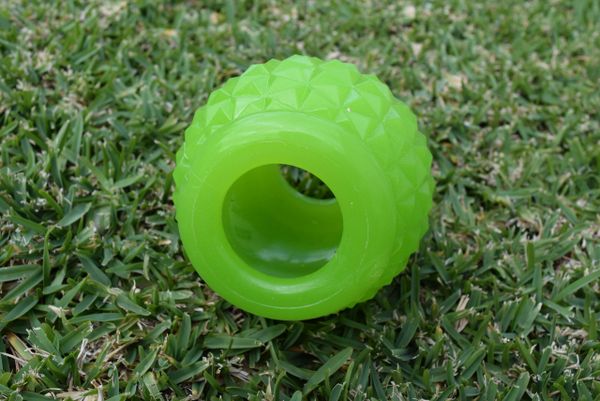 Bouncy Soft Rubber Pineapple Ball
This pineapple ball is made out of a thick polyurethane rubber and designed for playing fetch. This different take on a ball is great for dogs with a softer chewing temperament. The softer polyurethane rubber with the different grooves around the sides to massage your dog's gums! This rubber item also has a slight bounce.
The hollow centre allows you to hide treats or smear in some peanut butter within to keep your dog entertained for hours!

There are three sizes of this pineapple ball:
Small - approx 5.5cm diameter, 5cm height (2.5cm hole)
Medium - approx. 7.5 cms diameter, 7cm height (3.5cm hole)
Large - approx. 9.5 cms diameter, 9cm height (4.5cm hole)
Note. This is not suitable for very aggressive chewers due to the softer rubber, for aggressive chewers please refer to our nylon products.
This item is packaged in fishnet packaging.
Please note any dog weights are a guide only, we recommend you consider the size of your dog, the size and material of the product as well as your dog's chewing temperament to ensure you are purchasing a product that is appropriate for them.